Boat rentals are a great way to spend a day seeing beautiful Lake Flaming Gorge. Lucerne Valley Marina is centrally located so that you get to experience both the high desert terrain on the Wyoming side and the towering canyons on the Utah side. Don't forget to bring your camera as wildlife abounds – eagles, hawks, bighorn sheep, mule deer can all be seen.
We suggest the fishing boats and patio boats for fishing. We do not provide fish finders or down riggers. Fishing boats have 9.9-15 hp engines and are great for trolling but do not have a long range. The 24' Patio boat has a 60 hp outboard motor and can troll with a cover. The patio boat is very efficient and uses 5-10 gallons of fuel per day depending on use. It can also make it to the Dam and back without re-fueling. We always suggest keeping an eye on your tanks, when half of it is gone it is probably best to head back to the nearest dock to refuel.
The 17' Bayliner Runabout is best used for those wanting to sight see. This boat seats 7 people but does not have a cover. It can be used to pull a tube but does not have the hp to pull up skiers or wakeboarders.
The 21' Smokercraft is a cross between a wakeboarding and patio boat. It is the newest boat to our fleet and can pull skiers. It has a cover and is very comfortable for up to 10 people.
If wakeboarding, skiing or tubing are your past times the 18' Bayliner and the 21' Glastron are the rental boats for you.
18' Bayliner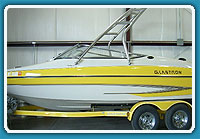 21' Glaston
21' Smokercraft w/Tower
Rental Rates - Includes Tax
| | | | | | | |
| --- | --- | --- | --- | --- | --- | --- |
| Type of Boat | 2 Hour Min. | 1/2 Day | Daily | Deposit | Max # of persons | Pets Allowed |
| 14' Fishing Boats | $48 | n/a | $145 | $50 | 4-5 | Yes |
| 16' Fishing Boats | $48 | n/a | $145 | $50 | 5 | Yes |
| 17' Runabout | n/a | $175 | $320 | $200 | 7 | No |
| 18' Bayliner Ski w/Tower | n/a | $205 | $385 | $200 | 6 - 8 | No |
| 21' Smokercraft w/Tower | n/a | $260 | $475 | $200 | 8-10 | No |
| 21' Glastron w/Tower | n/a | $250 | $450 | $200 | 8 | No |
| 24' Patio Boat | n/a | $160 | $285 | $150 | 13 | Yes |
Tagalong Rentals with Houseboats for 3 or more days receive a 20% discount on the daily rental fee. The 18' Bayliner & 21' Glastron cannot be used as a tagalong.
Multiple Day Rentals for the same boat for 3 days or more receive a 20% discount.
Full Rental Day is 8:00 a.m. to 6:00 p.m. - 1/2 Day Rentals are 5 hours long. Rentals cannot be kept overnight unless with a houseboat tagalong.
Reservations are only taken for full day rentals - all other rentals are on a walk-in basis.
We do not refund due to weather, illness, or change in plans. Cancellations must be received in writing 10 days prior to the rental date or rental fee will be forfeited.
No shows do not receive any refund.
Renter is responsible for all gas, oil and any damage incurred during the rental.
Full rental fee plus deposit is due at the time of reservation. Small boat rentals require a ten (10) day cancellation. If boats are not cancelled within 10 days of the rental date, then the first day's rental is forfeited. Please note that there is a $100.00 cancellation/transfer fee that is subtracted from the deposit if a reservation is cancelled. We are not responsible for loss of running time due to equipment failure, weather, illness, accidents or changes in plans. We do not refund due to weather. Number of persons and weight in each boat is at the discretion of concessionaire. All damage done to the boat or the props are the renter's responsibility. Gas and oil is not included in rental rate.
All safety equipment such as fire extinguishers, life preservers, paddles are provided.
We reserve the right to refuse use of equipment or facilities if the renter or customer in our judgment is ill or otherwise in a situation which might affect his own or the safety of others. We also reserve the right to call in rented boats improperly or unsafely handled. All boats are rated by passengers and weight limit. If the weight limit is exceeded we retain the right to restrict the number of passengers or cargo aboard the boat.